Located in the heart of Bhimavaram to enthrall you with the class of Mall built with global standards like never before. Reaching out to a people spanning all over West Godavari Dist.
Coastal Andhra's largest mall, is designed keeping in mind the 'shopper-tainment' concept and this green building developed on 3.19 acres of land has many architecture splendor and has been designed keeping in mind the modern shopping needs
It has 60,000 sq. ft of Retail space and 60,000 sq.ft of Entertainment space. The retail space houses premium national and international brands. The mall has plenty of drive-in space and ample car park that extends to 1,00,000 sq.ft. There are two basement parking lots that can easily accommodate 400 vehicles.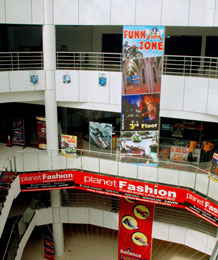 Highlights
Built in an area of 3.19 acres, the mall houses a classy Multiplex being run by Geetha Multiplex apart from the retail spaces which are occupied by major International Brands. That's not all, on the entertainment front - Geeta Multiplex is redefining the cinema experience with a four-screen multiplex a total of 1,200 seats in a sprawling area of 40,000 sq.ft.
Designed to global standards, the mall has an atriums at the enterance of the mall with a height not less than 40 feet. The atrium areas allow plenty of natural light into the common area. Ample space has been provided for car parking, drive-ways and landscaping. In all, the mall has 4 lifts and 3 escalators. Realizing the need for open spaces amid concrete structures, the building has ensured that mall-hoppers will enjoy the luxury of a huge open area in the heart of Bhimavaram.
Special Features
60,000 Sq.Ft. Retail Space
60,000 Sq.Ft. Entertainment Area
1,00,000 Sq.Ft. Parking area
About Bhimavaram
Bhimavaram is a city and mandal in the West Godavari District in the state of Andhra Pradesh, India. It is located 395 kilometres (245 mi) east of state capital, Hyderabad. Other villages in Bhimavaram Mandal are Anakoderu , Annavaram , Bethapudi , Chinamiram , Deyyalatippa , Dirusumarru.
Brief History of Bhimavaram
Bhimavaram is also called the Second Bardoli of India. Mahatma Gandhi coined the name when he visited the town during the freedom movement in India. It is one of the Pancharamas(Somaramam) in AP state, as it has Someswara Swami temple.Statewide popular "Mavullamma temple" is located in the middle of the town.
Potential of Bhimavaram
Bhimavaram is a well noted place which has many wealthy individuals. Bhimavaram is also as a centre of trade for the surrounding villages and is considered to be one of the important commercial towns in the district of West Godavari. Farming, Fisheries, Trade and Real Estate are few of the main sources of income for the people around.
It is also known for its statewide renowned educational institutes like S.R.K.R Engineering College, Shri Vishnu Engineering College for Women and D. N. R College Association, and also for famous hospitals.It is the Aqua capital of the coastal area. Bhimavaram Town is one of the main shopping hub in the district for products like Jewellery, Cloth, Sea Food, Electronics, etc.